vMix also functions as live streaming software that allows you to publish your live productions directly to the Internet!.
vMix runs on the Windows 10 platform.
vMix is a complete live video production software solution with features including LIVE mixing, switching, recording and LIVE streaming of SD, full HD and 4K video sources including cameras, video files, DVDs, images, Powerpoint and much much more.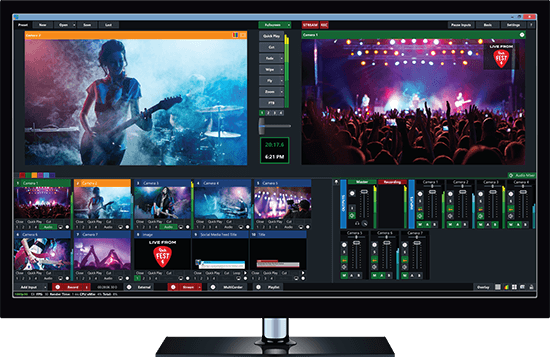 As vMix is a software solution, we've enabled users to build their own custom computers at a fraction of the cost of traditional live production equipment. We have created vMix Reference Systems that will allow you to build a vMix PC with specifications to match your production needs. We also have a list of available system builders that can create a system for you!
vMix Reference Systems are recommended specifications you can use when building a custom live production system for vMix.
To view a list of resellers who can build to these specifications click the following button to find a reseller.     FIND A RESELLER
RUBY




HD + 4 Camera Replay

OPAL




HD

SAPPHIRE




Laptop

OBSIDIAN




4K

DIAMOND




4K + 8 Camera Replay
Ruby

 – 8 Cameras with 4 Camera Instant Replay
Capabilities
Camera Inputs
8 SDI Cameras HD 1080p
Streaming
1080p 20Mbps
Multi Bitrate SD + HD
NDI
4 NDI Sources up to HD 1080p
Total Inputs
50
Recording
1080p 75Mbps MP4
Instant Replay
4 Cameras HD 1080p 100Mbps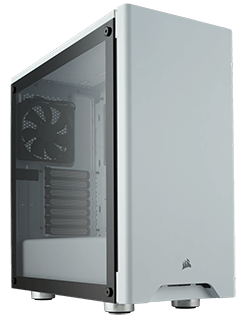 Note: The part numbers below represent components we have tested and verified for vMix but you can modify these to suit your needs.
System Specifications
Motherboard
Gigabyte Z490 AORUS PRO AX
OR Intel Z490 motherboard with 2x PCI Express x16
Graphics Card
NVIDIA GeForce RTX 3060 Ti
Case
ATX Case (Corsair Carbide 275R Tempered Glass Case in photo)
SSD
Samsung 970 EVO Plus NVMe M.2 1TB SSD
PSU
750W ATX PSU
Capture Card
AJA Corvid 88 or Blackmagic Decklink Quad 2
CPU
Intel Core i7 10700K 3.8GHz+
Cooler Master MasterLiquid 240 Liquid CPU Cooler
RAM
16GB (2x8GB) DDR4
Operating System
Windows 10